Amish fabricator in Ohio responds to exploding demand for field hospital cots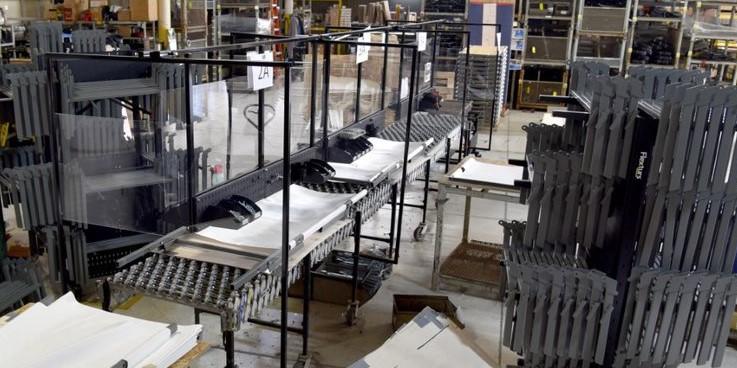 Being in quarantine, Eddie Wengerd had time on his hands. He had returned from the MODEX material handling trade show in Atlanta and was notified that someone at the event had tested positive for COVID-19.
Eddie is general manager of Dalton, Ohio-based Pioneer, an Amish company that specializes in a small niche in the ag market that the plain community knows better than anyone: horse-drawn farm equipment. Powered off the grid by a natural gas generator, the operation has all the technology of a modern fab shop. The organization also has embraced lean manufacturing and has even designed flexible workstations that it now sells under the Gridlok and Flexturs brands through its subsidiary, Pioneer Industrial Workflow Solutions.
When Eddie and his brother Steven, director of sales, returned from the tradeshow and learned they were exposed to COVDI-10, the two quarantined themselves for 14 days, but they spent that time wisely. One day Eddie showed his brother a newspaper article about how the country was running out of hospital beds, and the need for field hospital cots was exploding.
"That's when his mind started spinning."
So said Leon Wengerd, Pioneer's CFO, who explained that at the tradeshow both Eddie and Steven met someone from the Lyon Group in Chicago who had connections throughout the medical supply chain. All the pieces of the puzzle—sales and distribution, local manufacturing collaborators, and lean production—seemed to be in place.
Could it work? The world needs more field hospital cots now amid the coronavirus pandemic. Could Pioneer and its partners provide them?
As Leon recounted, "Within a few days we developed a prototype in SolidWorks. The next day we had a prototype built. A few days later, we were in production. Eddie called me about the idea on March 20, and the first 50 cots were being shipped to Long Island, N.Y., on April 3." Less than two weeks after that, this company of 50 employees had shipped more than a thousand cots to state governments and medical facilities in Ohio, Maryland, Colorado, and elsewhere.
Leon emphasized that all this couldn't have happened without two things: lean thinking and good relationships. The latter includes that serendipitous tradeshow encounter with the Lyon Group representative, which led to an expansive sales and distribution channel (though Pioneer is also selling direct). Pioneer also has a relationship with Zoro, a Grainger subsidiary.
Fabric welding systems-maker Miller Weldmaster, Navarre, Ohio, also played a role. "The company builds vinyl welding systems, and they were very instrumental in helping to design the webbing for the bed," Leon said. "And they have strong connections with Seaman Corp. out of Wooster, Ohio, which is supplying the webbing going forward. And Weaver Leather in Mount Hope, Ohio, punched the vinyl webbing to fit the bed."
Immediately after the prototype was finished, it was all hands on deck. Pioneer has extensive fabrication equipment in-house, including a new laser cutting system and press brake. But to ramp up fabrication capacity and to ensure it had resources available for final assembly, Pioneer outsourced the cutting and bending work to Metal Dynamics in Wooster, Ohio. When cut and bent components arrive at Pioneer, they head to robotic welding. Several third-generation Wengerds, still teenagers, designed a fixture that facilitated extremely short cycle times.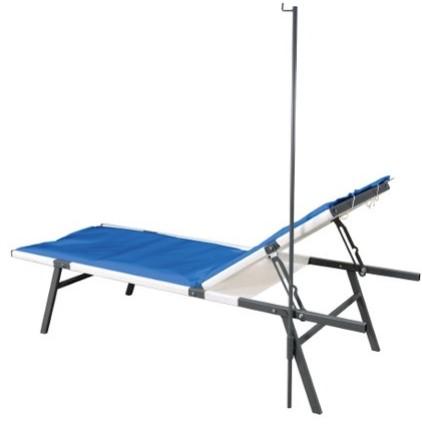 The entire bed was designed around downstream needs, not just for comfort and strength for the end user, but for ease of fabrication, painting (including quick-dry paint), assembly, and deployment. For instance, small teardrop designs in the plate allow cots to stack securely and compactly for transportation and storage.
Lean, high-velocity assembly is at the crux of it all. With its own flexible workstations configured as needed, Pioneer designed an assembly cell—complete with Plexiglas separators to maintain the social distancing protocol—where 14 people assemble a cot from start to finish. "And the Flexturs and Gridlok [flexible workstation] systems worked so well for keeping all the needed tools and hardware the assemblers needed," Leon said.
Takt time at each station is just 30 seconds. That means every 30 seconds a completed cot emerges from the line. When seconds matter, the exact position of assembly tools and hardware matters too.
Such a quick ramp-up to production shows just how powerful lean manufacturing is in response to a crisis. Lean concepts allowed Pioneer and its partners to ramp up quickly to meet an urgent need. They'll then scale back just as quickly when the crisis subsides, with no inventory weighing down the balance sheet.
The feat also highlights the importance of relationships. Pioneer couldn't have accomplished what it did without its partners, including those mentioned here and more than a half-dozen others. All wanted to help in a time of need. Thinking and working together, a community of progressive manufacturers and suppliers can accomplish great things.